Sweet Potato Cashew Casserole
Sweet Potato Cashew Casserole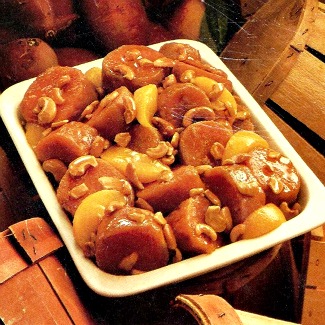 This sweet potato cashew casserole is one that the entire family is guaranteed to love. Cashews and peaches make this dish delicious and interesting! The first time I made this for my family they raved about it and asked me to please make it again soon.

This is not your run of the mill sweet potato casserole. You'll definitely want to add this one to your menus throughout the year.
If your looking for something different to add variety in adding sweet potatoes to your diet, this one will certainly be a welcomed dish.

When serving this sweet potato cashew casserole at holiday dinners or other family gatherings, write it down on index cards to have handy for hand outs to family and friends, as they are sure to ask for the recipe.

Ingredients:
(Makes 6-8 servings)
1/2 Cup packed brown sugar
1/3 Cup broken cashews
1/2 teaspoon salt
1/4 teaspoon ground ginger
2 Pounds sweet potatoes (5 or 6 medium), cooked, peeled, and cut crosswise into thick pieces
1 8-ounce can peach slices, well drained

3 Tablespoons butter or margarine

How to Prepare:

Preheat oven to 350 degrees Fahrenheit.
Combine brown sugar, cashews, salt, and ginger.
In a 10x6x2-inch baking dish layer half the cooked sweet potatoes, half the peach slices, and half the brown sugar mixture.

Repeat layers
Dot with butter or margarine.

Cover and bake for 30 minutes 
Uncover and bake 10 minutes more
Spoon brown sugar syrup over potatoes and peaches before serving
Enjoy your delicious sweet potato casserole!
Tips
I use my Longaberger pottery, 3 Qt (13x9x2) baking dish for this casserole. I increase the ingredients by 50% (half again) and make a third layer. I have a family of 6 and some of them often ask for seconds of this delicious casserole.
In a hurry? For a quick dish with reduced preparation time, use canned sweet potatoes and save time cooking and peeling the potatoes.