Sweet Potato Turkey Pie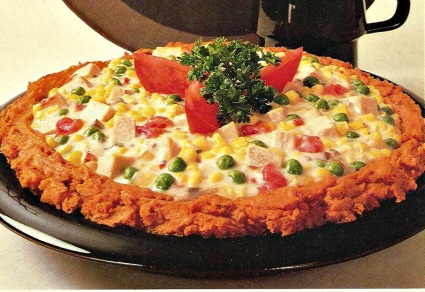 Sweet potato turkey pie is a great recipe to use up holiday dinner left overs! The crust can be made from leftover mashed sweet potatoes or quickly done with canned sweet potatoes. The filling is full of veggies and turkey. Whether using leftovers or not, this is a delicious all-in-one dish dinner casserole, sure to please.
The recipe calls for canned sweet potatoes, but you can use leftovers from a previous meal or prepare your mashed potatoes using one of our Mashed Sweet Potato Recipes if you prefer.
Ingredients:
(Makes 6 servings)

3 Tablespoons butter, melted
1/8 teaspoon ground nutmeg
1/8 teaspoon ground allspice
1 17-ounce can sweet potatoes, drained and mashed

1/2 cup chopped onion
2 cups diced cooked turkey
1 10 3/4-ounce can condensed cream of mushroom soup
1 8-ounce can whole kernel corn, drained
1 8-ounce can peas, drained
1 small tomato, peeled and diced

To Prepare:

Beat 2 tablespoons of the butter, spices, and 1/4 teaspoon salt into potatoes.
Line a 9-inch pie plate with potato mixture, building up edges 1/2 inch.
Cook onion in remaining 1 tablespoon butter till almost tender. Stir in turkey, soup, corn, peas, tomato, and 1/4 teaspoon salt.
Spoon into potato shell
Bake in 350 degree F. oven for 35 minutes.
Trim with tomato and parsley.
Enjoy!
Tips: Miss the crust like a traditional pot pie has? Add a traditional pie crust to bottom and top of this pie.

---
Try these other delicious sweet potato casseroles...

Praline Sweet Potato Casserole
---
Share your favorite sweet potato casserole recipe. Or, review recipes that other visitors have shared. Try one... Try them all! You can even comment and rate any of our visitor's casserole recipes.
Why are sweet potatoes so good for you? They're delicious and nutritious! Click here to find out what's in a sweet potato?
Return to Sweet Potato Casseroles from Sweet Potato Turkey Pie.